The NHS COVID-19 vaccination programme is well underway, with patients called for vaccination in priority list order:
residents in a care home for older adults and their carers
all those 80 years of age and over and frontline health and social care workers
all those 75 years of age and over
all those 70 years of age and over and clinically extremely vulnerable individuals ("shielded" patients)
all those 65 years of age and over
individuals aged 16 years to 64 years with underlying health conditions putting them at higher risk of serious disease and mortality
all those 60 years of age and over
all those 55 years of age and over
all those 50 years of age and over
all those aged 40 to 49 years
all those aged 30 to 39 years
all those aged 18 to 29 years
English not your first language? See the Healthier Together website for more information about Covid-19 and the vaccine in other languages
Vaccine Passport: to prove your vaccination status for holidays abroad, use the NHS App (self-registration, no GP practice action needed for you to get info about Covid vaccines given in England) or call 119 for a paper copy
We are now offering vaccination to:
patients aged 32 years and over



shielded patients

(aged 16 and over)



patients with underlying health conditions

(aged 16-64 yrs, see FAQ)
Vaccinations are offered either within PCN clinics (see below for more information) or clinics that are just for Fireclay Health patients - both clinics are delivered from the usual GP & Nurse clinic rooms at Lodgeside Surgery
We are following Government guidance for timing of 2nd doses:
8 weeks after 1st dose for cohorts 1-9
~11 weeks after 1st dose for everyone else
We cannot accommodate requests for early vaccination in order to go on foreign holidays
For more information about the Covid vaccination program locally, including information about AstraZeneca safety concerns, see the BNSSG Healthier Together website
Next Clinics:
AstraZeneca: Tues 15th June 8.20-10.10am
Pfizer: Tues 15th June 10.50am-1.20pm
Includes 2nd doses for anyone receiving a 1st vaccine at Lodgeside Surgery before 1st April - please contact us if you do not receive a booking link by text
Clinics are based on our vaccine deliveries which are being managed at a national level - there will be no choice of vaccine on the day.
This page is updated with our clinic dates and vaccine available when known (Pfizer/BioNTech or Oxford/Astrazeneca) so a preference can be accommodated by booking on the relevant date.
When attending for vaccination
Please wear a face covering and
do not arrive more than 5 minutes early

when we are running large PCN clinics the Lodgeside Surgery car park will be restricted to Blue Badge holders - street parking is available nearby with additional parking at Cossham Hospital for these clinics only (access via Selkirk Road from Lodge Road - only free of charge when directed by clinic marshalls)
If you are in an eligible cohort and haven't yet received/booked your first vaccination, please contact us or call 119 / visit the online National Booking Service to book at a Mass Vaccination Centre or pharmacy. You will only be given a choice of appointment times online if eligible and can attend whichever location is most convenient. It will be easier to book if you have your NHS number to hand - you can find your NHS number here.
We may not be able to book you an appointment immediately. Please be assured that once your age cohort becomes open and when we have vaccine supply, we will be in touch with you to invite you for vaccination.
We are working tirelessly to vaccinate our patients as quickly as possible using every potential slot and every dose of vaccine as soon as we receive it. Please be patient and kind to our staff; we will be in touch when it is your turn.
We send SMS invitations using a service called AccuBook - sent by 'Fireclay', these texts include an accurx.thirdparty.nhs.uk link to book your appointment online (using Smartphone or by copying link into web browser).
This is a unique link - you can only use it for the person the SMS is addressed to (date of birth confirmation required).
You can use this link to book or decline invitation, including letting us know if you are booked to receive vaccination elsewhere
We will supplement this system with emails and phone calls - we will contact you if you do not have a mobile phone or your SMS link remains unused.
You may also receive a letter from the national booking team with an invitation to vaccination at Ashton Gate or other Mass Vaccination Centres - you are welcome to book at whichever location is more convenient.
If necessary please contact us to update your details with us to ensure you receive prompt notification of appointment availability.
If you receive an invitation for vaccination that asks for your bank details this is a scam
Covid-19 vaccination is being provided free of charge under the NHS and at no point will you be asked to pay.
A genuine text message from the Government's secure Notify service will invite you to book online at nhs.uk/covidvaccine or by calling 119 and will appear as being sent from 'NHSvaccine', Our own text messages appear as sent from 'Fireclay'.
See this Action Fraud alert for more information and action you can take to report a vaccination scam
We have also been alerted of patients receiving phone calls from a company claiming to be the National Immunisation Management System (NIMS), asking for details about their COVID-19 vaccination - we have been advised that this is also likely to be a scam call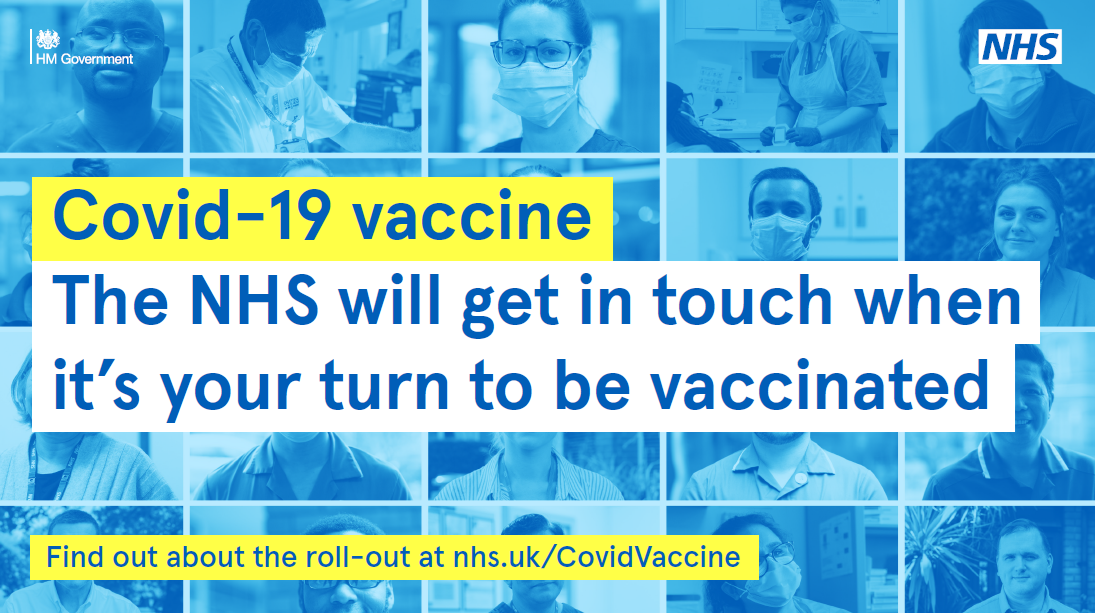 Covid-19 vaccinations are being delivered through Primary Care Networks (PCNs). Fireclay Health is part of the FOSS PCN (Fireclay and Old School Surgery) PCN - staff from both practices will be working together to deliver vaccination clinics at our Lodgeside Surgery site.
You can read Old School Surgery's information about Covid-19 vaccination here - their patients will be able to make an appointment via their own practice.
We apologise if you will have further to travel to our clinic location however this is necessary in order to deliver the vaccination at scale, with the cold chain requirements for the Pfizer vaccine giving us nearly 1200 doses to deliver within 3 and a half days.
If you would like to volunteer to provide support to the mass vaccination programme you can email recruitment.massvaccination@nhs.nhs.uk
Who can and cannot receive vaccination
The Covid-19 vaccines are safe for people with immune system disorders as they do not contain living organisms
They do not contain any animal products or egg
Under current advice you should not be vaccinated if you:
have had a positive Covid-19 test in the last 4 weeks
are generally unwell - try to have it as soon as possible after you have recovered
are self-isolating, waiting for a COVID-19 test or unsure if you are fit and well
have had another vaccination (e.g. Flu) in the previous 7 days
are aged under 16 years of age
Vaccine specifics
If you have ever had a serious allergic reaction to medicines, vaccines or food you are advised not to receive the Pfizer vaccine. The AstraZeneca vaccine can be given unless you have had a previous severe allergic reaction to another vaccine
If you are aged under 30 or have a history of cerebral venous sinus thrombosis, acquired or hereditary
thrombophilia, heparin-induced thrombocytopenia or antiphospholipid
syndrome, an alternative vaccine to AstraZeneca is recommended
If you are aged 16-17 you should receive the Pfizer vaccine - the AstraZeneca & Moderna vaccines are not licensed for under 18's
Pregnancy & Breastfeeding
Last updated 19/4/21
There have been no specific safety concerns identified with any brand of coronavirus (COVID-19) vaccines in relation to pregnancy
based on real world data from Pfizer and Moderna vaccinations in the US, the JCVI now advises (Apr21) that these are the preferred vaccines for pregnant women to receive
Pregnant women who have already received a first dose of AstraZeneca vaccine should continue to receive AstraZeneca for their 2nd dose vaccination (unless otherwise contraindicated)
Women who are trying to become pregnant do not need to avoid pregnancy after vaccination
There is no known risk associated with giving non-live vaccines whilst breastfeeding - breastfeeding women may be offered any suitable Covid-19 vaccine
For more information, please see:
Your second vaccination dose
Two doses of Covid-19 vaccine are advised - without the second dose the immunity gained from your first dose may not be strong enough or last long enough. However even with just one dose the Pfizer/BioNTech vaccine has been estimated to offer 89% effectiveness from two weeks after it is given and the Oxford/AstraZeneca has been estimated to offer 74% effectiveness in the same timeframe.
We will contact you again when it is time for you receive your booster dose - please contact us if it has been 10 or more weeks since your first dose and you haven't booked or received your 2nd dose.
Except in the circumstances given below your second vaccine dose should be the same vaccine as your first dose - missing the second dose or switching between vaccines is not advised as this may affect the duration of protection.
A rare blood clotting side-effect has been identified with AstraZeneca vaccine but anyone who has had a 1st dose without incident should continue to a 2nd dose. You cannot choose to receive a different 2nd dose vaccine unless there is a clinical contraindication.
For more information on the NHS protocol for second doses see this patient information leaflet produced by BNSSG Healthier Together
2nd dose exceptional circumstances:
1) we do not administer Pfizer vaccinations at home due to the cold chain requirements. If you received a Pfizer first dose in hospital and are now housebound, we would ask you to attend a Pfizer 2nd dose clinic at Lodgeside Surgery wherever possible. If this is no possible we can offer you AstraZeneca vaccination at home - this is allowable under Green Book guidance
2) Patients who have experienced major venous and arterial
thrombosis occurring with thrombocytopenia following vaccination with any
COVID-19 vaccine should not receive a second dose of COVID-19 Vaccine
AstraZeneca (new guidance Apr21)
Frequently Asked Questions
Can I choose a particular Covid-19 vaccine?
No - when you book into a vaccination clinic you will be given the vaccine we have been supplied for that date.
A rare blood clotting side-effect has been identified with AstraZeneca vaccine with anyone aged under 40 recommended to receive a different vaccine. But if you have had your 1st dose without incident, you should continue to receive your 2nd dose. You cannot choose to receive a different vaccine unless there is a clinical contraindication.
Please see our upcoming vaccination clinic information at the top of this page for vaccine on offer. We would advise reading the patient information for both Pfizer/BioNTech and Oxford/AstraZeneca vaccines so you are prepared to consent for either vaccination.
The Moderna vaccine has also been approved for use however we do not expect to receive this.
Can I stop you inviting me for Covid-19 vaccination?
If you wish to DECLINE vaccination, please let us know - we will record this on your notes and will not then invite you again.
If you are booked or received vaccination elsewhere, please let us know - we do not otherwise know that you have booked elsewhere and we do not always get notification that vaccination given.
You can email this information to fireclayhealth.appts@nhs.net
Does my health condition qualify me for priority vaccination?
In general vaccination has proceeded down age cohorts however Group 4 and Group 6 include prioritisation of patients most at risk for vaccination before they would otherwise become eligible for vaccination due to their age.
Patients identified as clinically extremely vulnerable will have been sent a shielding letter and are eligible for Group 4 priority vaccination. A Feb21 risk assessment exercise added more patients to the shielding list, including those with previous gestational diabetes. Shielding is advisory only - if you have received a letter you can choose not to shield but remain eligible for vaccination.
Other conditions may qualify for Group 6 priority vaccination - if you are eligible this will show as a flag on your record. We believe we have now largely completed inviting the Group 6 cohort - if you have not been contacted, this may be because we do not have an up-to-date mobile or other telephone number for you or because your condition does not qualify you for this cohort.
The group 6 cohort has been identified via complex coding which may have picked up some patients who are not necessarily at greater risk in order to best capture those who are. You do not have to accept vaccination with the group 6 cohort - you can choose to wait until your age cohort is eligible.
Do I qualify for Group 6 vaccination?
You are likely to be in Group 6 if you are eligible for an annual flu vaccination due to your clinical risk and/or are invited by us for an annual Long Term Condition review however this may not always be the case. This is a large and complicated cohort to define - some common queries include:
mild or well-controlled asthma does NOT qualify - only severe asthma, defined as an emergency asthma admission ever or continuous/repeated use of oral steroids (3 prescriptions in last year). People with asthma have been shown generally not to have increased risk of severe disease if they catch Covid-19
ME/CFS (Chronic Fatigue Syndrome) is NOT currently specified as an eligible Group 6 condition - you can follow any updates on this position via the ME Society

patients with Hypertension only do NOT qualify
Many conditions such as Rheumatoid Arthritis and Crohns disease only qualify if you are treated with immunosuppressive medication
patients with Coeliac disease only qualify if have only if reduced spleen function
all patients on our Learning Disabilities register are now eligible for vaccination under Group 6 - please contact us if you need reasonable adjustments made in order to attend an appointment
More detail about the Group 6 underlying health conditions is given in the Green Book chapter 14a (page 9)
I am a Carer - can I receive vaccination?
If you are employed to provide direct personal care this comes under priority Group 2 - please check vaccination arrangements with your employer. You should be able to attend a Mass Vaccination Centre.
Unpaid carers qualify under priority Group 6 if:
eligible for a carer's allowance, or sole/main carer of an elderly or disabled person who is at increased risk of COVID-19 mortality (clinically vulnerable)
delivering personal care to the individual at risk - this does not include for example, shopping or cleaning
If you are on a Carers Register (e.g. with us or your Local Authority if you are in receipt of Carers Allowance) you will be invited for vaccination by us and/or through the National Booking Service - please wait until you are called.
Unpaid carers can also now book for vaccination online with the National Booking Service - you will need to answer questions to check whether your caring responsibilities make you eligible for priority vaccination.
Please see our Carers page for information about support available.
My child is shielding - can they receive vaccination?
There is no Covid-19 vaccine licensed for use in under 16's. However the Joint Committee on Vaccination and Immunisation (JCVI) have advised that children aged 12 years and over with severe neuro-disabilities and recurrent respiratory tract infections who require residential care can be vaccinated within the Group 4 cohort. There is no data to support use of the vaccine in younger age groups or other clinical groups.
As this would be unlicensed use you would need to discuss the risks & benefits with your child's Specialist Team. We understand specialist clinics will be arranged to deliver vaccinations to this cohort across Bristol.
Children under the age of 16 will not be offered vaccination by the practice.
For your own vaccination as a carer of a child whose welfare may be at risk if you fall ill, please see the Carer section in these FAQ.
I can't get to the surgery, can I have vaccination at home?
Our initial deliveries were Pfizer vaccine which is not suitable for taking to patient homes due to its cold chain requirements. We now have supplies of AstraZeneca vaccine and are starting to provide vaccination to our housebound patients in the eligible cohorts - it may take some time before we can vaccinate everyone.
We are inviting all patients in the currently eligible cohorts in case housebound patients are able to be supported to attend the surgery for earlier vaccination. If this is not possible, contact us after receiving your invitation to be added to our housebound visit waiting list.
If we do not have you recorded as housebound we would ask you to attend a surgery-based clinic for vaccination.
I am not a registered patient, can you vaccinate me?
Yes, if:
you are currently living away from your usual GP practice and cannot get to a Mass Vaccination Centre - to book with us we will need to know your NHS Number and Date of Birth
you are a local resident registered with a private GP - if you are not called by the National Booking Service, you can book straight in with us if you already have an NHS Number or you could register with us to obtain an NHS number
you are not a usual resident of this country but are currently staying here - without an NHS number we will be unable to use our normal booking system however we will be able to advise you when you can attend for vaccination. We will add you as a temporary resident and enter your vaccination electronically onto the national system