Online Services for Registered Patients
** Free NHS wifi available in our practice waiting rooms **
Please click on the GP online services button above for further information and links to Patient Access - this is the Online Services provider supplied by our clinical system provider EMIS and the provider our staff have most familiarity with. If you have yet to register for Online Services, please see below.
All online booking of appointments has been temporarily suspended following public health advice regarding management of the spread of Covid-19. We are aiming to re-introduce online booking as Covid restrictions lift.
Online services can still be used to order prescriptions and access your patient record. If viewing your Test Results online you may find labtestsonline.org.uk helpful - a site which has useful information for patients about why Tests are done and what the Results mean.
Register for Online Services as a new user
Registering must be in person at either site as we need to prove your identity before giving online access to your personal data. You will be asked to complete an application form - see Menu.
Usually Online Services access is provided only to patients aged 16 and over however this can be extended to patients aged 11-15 with parental or GP consent - please ask Reception for an application form generated from our EMIS clinical system if applicable, or see the Proxy Access section if you want to manage online services on behalf of a child.
For more Detailed Record Access, to Problems & Consultations coded data, a further application form is needed, generated from our EMIS system. This is only provided to patients aged 16 and over with proof of identity via photo ID.
There are several on-line service providers and you can register with more than one. Whichever online services provider you choose to register with:
ensure you register for Fireclay Health online services - select BS5 7PH address even if you are primarily a Lodgeside patient (Lodgeside Surgery may be displayed in search results but will not work if selected)
Use a unique email address for your account log-in, i.e. not shared with another user of this online service
Users must abide by our Terms and Conditions for online access - described further down this page
Register for Proxy Access (on behalf of patient)
Proxy Access can be set up for parents/carers to manage online services for a child/other cared for person who is a patient at our practice.
The parent/carer does not have to be a patient of this practice but must have their own NHS App or Patient Access account via which they manage the other account as a 'linked user'.
Where the parent/carer is themselves a patient at Fireclay Health and is requesting access for a patient aged under 11 at the same address, Proxy Access is a simple matter for Reception to set up.
In all other cases the parent/carer must complete an application form - see Menu. Patients aged 11 and over must sign to provide their consent for data access - if the patient does not have capacity to consent this must be confirmed by paperwork or a GP before access is provided.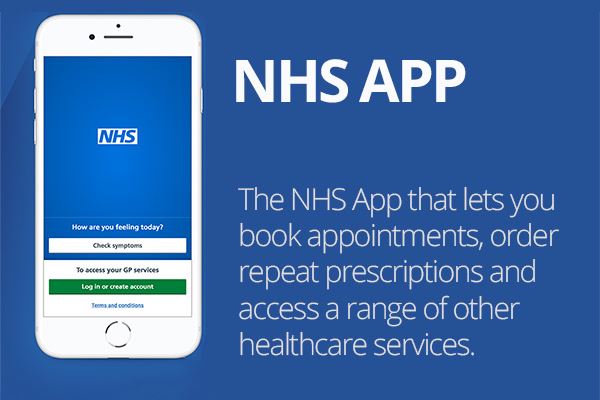 Smartphone/tablet App OR web browser access via NHS login
The up and coming NHS App offers additional features over standard online access - you can also manage organ donation and send us an eConsult directly from the NHS App (via Check your symptoms), saving you re-entering your personal details.
To use the NHS App you will need to create an NHS Login. The easiest way to prove your identity is with the Linkage Key, ODS code & Account ID provided on your Online Services registration document. If you are already registered for Online Services you can find this information in your current Online Services provider (in Patient Access: click on your name in top right & View Profile / Linked Practices / My Practice)

Patient Access is supplied by our clinical system provider EMIS and is the one staff have most familiarity with - it can be accessed by the buttons on our home page.
We have prepared guidance (1 page pdf) for completing your registration online with Patient Access.
For any technical issues go to Patient Access support and use 'Technical Support' button or email support@patientaccess.com

Evergreen Life is another popular provider, with both web access and extra functionality via an App, however it does not offer Proxy Access.
For any technical issues contact Evergreen Life
Terms and Conditions for Online Services
1. It is your responsibility to ensure that your Online Services details are not used by anyone else. If you lose your log-in details please try requesting a password reset from your Online Services provider user ID reminder and/or password reset from the Patient Access website if you provided an email address and mobile phone number when registering. The practice does not have access to your password. If you have forgotten your password, we cannot reset it for you, we can only cancel your registration and issue a new registration document - you will need to use these new details to re-register
2. The use of this service will be monitored and if we find that a user is abusing the service, we will issue a warning letter. Where the situation does not improve, or recurs, access will be removed. Examples of inappropriate use are:
booking appointments and not turning up for them
booking appointments for other family members using your name
consistently booking inappropriate appointments